Who is Emperor Norton?
In San Francisco, on September 17th, 1859, Joshua Abraham Norton proclaimed himself Emperor of the United States, Protector of Mexico, and prospective consort to the Queen of Great Britain. He became a respected, even revered, public figure. He printed his own currency which was honored throughout the city, corresponded with world leaders, and issued proclamations, including firing congress, and making the use of the word "Frisco" a crime. He was far more than a madman; he was a visionary. He proposed, among other things, flying machines, the League of Nations, and the construction of the San Francisco Bay Bridge.
More about Emperor Norton...
What is the Encyclopedia of Random Information?
It started out as a backup repository of research materials. It ended up like this. Articles are posted on various subjects, without at common thread, at whim. This site will grow.
Books about Emperor Norton
Emperor Norton at Powell's Bookstore -- Awesome!
Stilts Worthy of My Majesty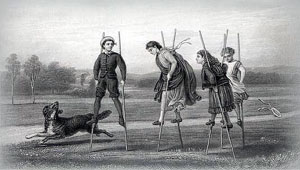 Traditional handcrafted adjustable wooden walking stilts, just like Grandpa used to make. This is not some cheap factory knockoff -- this is the Authentic Article. If you ever had stilts as a child, or if you have children or grandchildren, you simply MUST visit this site:
Frog Legs Stilts